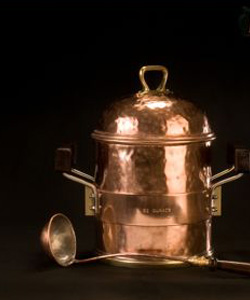 Cookware is one of the most basic and essential elements in any kitchen. Stockpots, saucepans, ladles, baking pans, mixing and serving bowls, other types of cookware…these are the tools we use to craft meals for our families. We nurture our loved ones through their use. Hammered copper cookware sets these items apart.  It is singularly special, in both appearance and function, and is the ultimate in kitchenware for the finest chef or the everyday cook wanting the meal to turn out "just right."
Custom Copper Cookware
Custom hand-crafted copper pots and pans from Misita Designs, brings a level of warmth and artistry to the kitchen that commercial cookware can never match. Each piece is carefully designed and fashioned to create the perfect feel and environment for your kitchen. Guests can instantly recognize the level of care you offer in your home from a single glance at this gorgeous hammered copper cookware.
Copper & Stainless Cookware Design
Joel can create pots and pans for you out of more than just copper. Stainless steel cookware can also be commissioned. Misita Designs can create a set of cookware for you that goes beyond simple copper pots and copper pans. Joel will bring something unique to your table that can be cherished as an heirloom for generations to come.