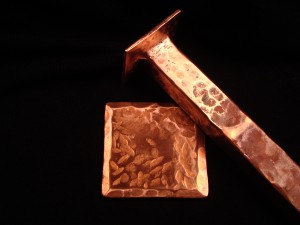 Joel…in the billiard room…with the candlestick…
He's done it again!  Not murder, though, just extraordinary craftsmanship.  Joel made these beautiful copper candlesticks for a man in Switzerland.  The client had chosen a specific design, and Joel replicated it.  He used solid copper and hammered them by hand.  They were quite heavy!  Built to please, built to last (and maybe even for use in a life-sized game of "Clue").
These copper candlesticks had a gorgeous patina that Joel achieved through a process of blow-torch heating.  The photos don't quite give it justice, but the effect included practically iridescent pinks, blues, greens…truly brought out the beauty of the copper.
These copper candlesticks are an example of Joel's smaller work.   Good things sometimes come in small, heavy packages.  Go to www.misitadesigns.com if you'd like to see some bigger custom stuff!