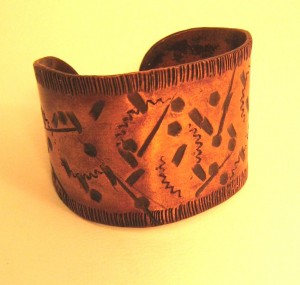 The copper bracelets.  Another part of our story.  My wife and I had just met, and had just begun our long-shot, long-distance, cross-cultural relationship.  She was in Chicago, I was in Mississippi (now you know what I mean by cross-cultural).  She was planning a quick trip to Minneapolis to attend the wedding of one of her dearest friends, and got the idea that she'd like to have me along.  So even though she had already RSVP'd solo for the wedding, she called and asked her friend if she could bring this guy she'd just met only a few weeks before.  Her friend told her she'd love to have me come if, in her words, he (I) was going to "be around for a while."  This may have been the first time my wife knew, and acknowledged, that I would, indeed, be around for a while!
 In preparing for the wedding, my wife bought a new dress, but didn't have quite the right jewelry to wear with it.  So she turned to me, her new boyfriend/hero, and asked me to make something for her.  The dress was sable, the sandals were strappy, and the bracelet would be copper.  I got to work.  She gives me a hard time about never doing anything simply, and this may have been one of the first glimpses she had into the way I do things, or over-do things.  I made about 40 copper cuff bracelets.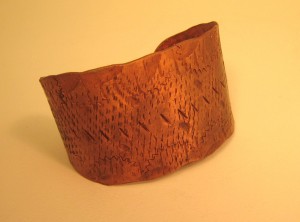 They all had different designs…different shaping, etching, hammering, decorative add-ons.  True to her personality, she chose one that was among the simplest to be hers.  The rest went into a box.  We went to Minneapolis together, got lost all over the city (so many lakes!), and attended the wedding (perfect setting in which to fall more deeply in love).  The plan was for Catherine to fly back to Chicago and for me to continue on to northern Minnesota to look after some family property there.  Catherine missed her flight (on purpose?) and ended up getting in the rental car and spending many more days in far-flung parts of Minnesota with me.  By the end of that time, our plans for life together were pretty much a done deal (especially as far as I was concerned!)
 Several years and two kids later, we happened upon the box.  A good friend here in Natchez owns a fabulous jewelry gallery.  We showed her the copper cuff bracelets, and she was interested in selling them in her shop.  She chose the ones she liked the best…check out her website to see which are still available (www.mschon.com).
 Catherine always says that my work and my life are all of a piece…this story is just an example of that.    A small project played a part in an event that became a turning point in our relationship and in our lives.  Seems to happen a lot.