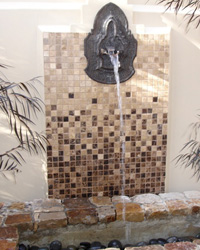 Custom Metal Design
Joel is an artist as well as a craftsman. His portfolio of custom metal design includes original sculptures, cupolas, custom handrails, candlesticks, copper jewelry, water features for outdoor gardens, and decorative metalwork for interior and exterior applications.
Any piece you commission with Misita Designs will be specifically designed and hand-crafted for you, and your input is essential to the outcome. You don't just submit an order, cross your fingers and hope for the best. You're invited to participate.
Metal Design Process
You're a critical part of the creative process, which begins as a conversation, and evolves into a collaboration. The design process is a dialogue (an ongoing discussion) and the starting point is up to you. You may have a handful of photos or a notebook full of sketches. Or you may have an empty space begging for something spectacular that doesn't yet exist. Wherever we choose to begin, the end result will be a breathtaking original with a story to tell. Your story.
Call Joel today at (601) 445-8745.