Two weeks ago I made a casket for a friend.  Last week I made an urn…kind of makes me wonder if someone's trying to tell me something!  Anyway, I want to write about this handmade urn because it was a very personal project.  I grew up with a girl named Stephanie.  She and her parents had long since moved out of state, but we've stayed in touch, and have visited when we've had the opportunity to do so.  She called me last week to say her dad had died very suddenly.  She called again the next day (Thursday) to say that the service would be Saturday, and could I make a custom urn and ship it to her in time for it to be there?  I got to work.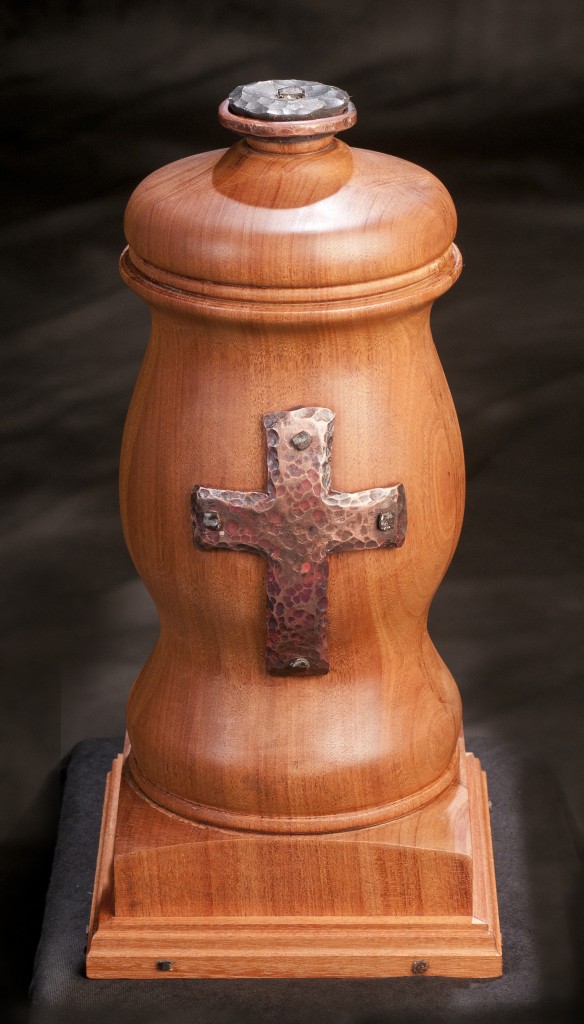 The guy who does a fair amount of the woodworking around here always makes fun of me for saving all the scraps of wood left from larger projects.  But I am so glad that I have!  I found a beautiful piece of mahogany down in the shop…just the right dimensions.  To simplify things (I had less than a day to get this in the mail), I decided to hollow out the block and turn it to look like it had a lid that would open from the top.  The bottom would be plugged with a small square of wood once the ashes had been placed inside.  I had some ideas in mind for the shape, and turned the mahogany urn on my lathe.  Steve was a faithful Christian, and I knew it would mean a lot to his family for the urn to bear a cross.  I fashioned a small copper cross by hand, hammered it, and affixed it to the urn.  On the faux lid, I placed a handmade knob of iron and copper.
Back when Stephanie and I were kids, her parents owned a restaurant across the highway from my house.  It's still there, and it's quite an unusual building.  It would be quite offensive in many parts of the country, but around here, people flock to eat their lunch and drink their sweet tea at "Mammy's Cupboard"…in the shape of, you guessed it, a Black mammy.  That's another discussion…back to Steve…
Being friends with Stephanie, I would often hang out at her parents' restaurant.  I was, let's put it this way…an irascible kid, and her dad, in his very, very compassionate and good-natured way, would often lecture me under a cedar tree in the yard of the restaurant.  I had lost my dad as a younger boy, so I don't think I really minded.  I actually kind of liked it.  So when I got a call, thirty years later, to make Steve's urn, I went across the highway, hacked a cedar branch from that old tree (hope the current restaurant owner didn't mind), and used the wood for the small plug in the bottom of the urn.  Just a little something, a symbol of my own remembrance of this man who was such a fine father to his son and daughters, his grandchildren, and to me.
The mahogany urn made it there on time.  Steve's ashes are now inside of it.  I was honored to help his family lay him to rest.