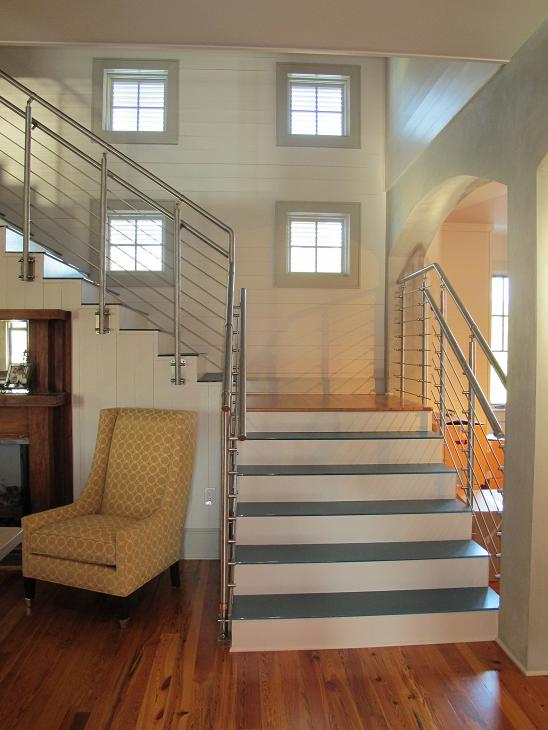 Ever heard of the Tchefuncte River? That's pronounced "chuh-funk-tuh," for those of you, like my wife, who are not from around these parts. The Tchefuncte passes through Tangipahoa, Washington, and St. Tammany Parishes before emptying into Lake Ponchartrain, across from New Orleans. It hits Madisonville about two miles north of the lake. Madisonville is one of the prettiest little river communities we have ever seen. Quaint, historic, marine…a great spot for enjoying a meal outside or an evening stroll. Through our visits there, we learned that the maritime museum there hosts a wooden boat festival every year. Cool place…clearly appealing to my client and his family who decided to build their dream home there.
I had done some handrail work in this client's previous home several years ago, and was glad that he called on me again to do some work in this new house. The ground level has a very open floor plan, with a staircase that serves as a focal point for the entire living space. They needed something that would be equal to the grandeur of the space, without outweighing with it. My client's decorating style is definitely eclectic…they've done a great job mixing some of their traditional pieces and elements with some more contemporary, modern ones. They asked me to build them a custom handrail for this main staircase, and we decided on stainless steel for its simplicity, cleanness, and cool tone. The home doesn't have a noticeably nautical theme, but hints of this seemed right, given the setting. So we came up with a very simple design…straight lines, utilitarian design, that fit this perfectly. My favorite part of the design process was coming up with a strong bracket that would fix the rails to the staircase AND look good…not too fancy or too heavy.
Executing this plan was an undertaking. I made each of the elements by hand from stainless steel stock…bored the threading to accommodate the screws that would hold the whole thing together, figured out angles that would round corners and meet codes appropriately, while not compromising the geometry of the whole thing. I was really happy with the result, as were my clients. The handrail is satisfyingly substantial, but still has an airiness to it that seems to cool you down as soon as you walk in and view it.