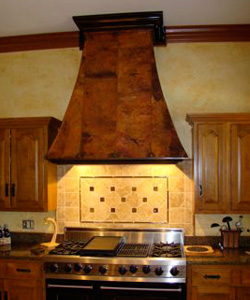 A vent hood, also known as a range hood, is a singularly important piece of equipment in your home.
It has an indispensable function…keeping the atmosphere of your kitchen clean and comfortable. Whether for commercial cooking or for home use, a quality stove is simply not complete without a vent hood.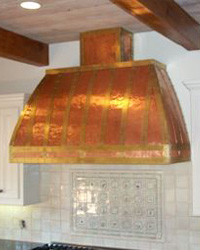 Custom Range Hoods
A custom built stove hood is an opportunity to include a piece of grand, sculptural art in the most important room in your home.
Your kitchen is the center of family life. A beautiful metal vent hood is a fantastic center piece for any kitchen and creates an inviting atmosphere for the most special occasions, or the most everyday meals. Misita Designs can ensure that you will enjoy the unparalleled beauty and grandeur of a custom designed and built vent hood every time you enter your kitchen.
Copper & Stainless Steel Vent Hood Design
Misita Designs specializes in creating copper vent hoods, stainless steel hoods
, or stove hoods that incorporate a combination of metals. A Misita Designs range hood can be fitted with factory-made workings, or can be completely custom made to fit the specifications of your kitchen. Each is designed to enhance the decorative motif and aesthetic of your home and lifestyle.
View some of our designs below.