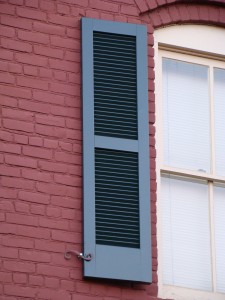 These copper shutters are on a commercial building in downtown Natchez.  It's a relatively large, vintage, brick building, painted red without much adornment.  Local preservation standards dictate that the shutters be painted "Natchez Green," as its known around here.  The contrasting colors and textures of the copper shutters and the brick give this understated  building a really sharp look.  I also did the building's rear copper awning and courtyard copper  lanterns, and would like to think that it benefits from the continuity of craftsmanship I was able to bring to it.
It may seem curious that my client chose copper shutters, then painted them.  The company chose copper as the material for its durability.  These shutters are built to last (that's kind of the idea around here).  They will never rot, and won't need a paint job for an extremely long time.
I made twenty copper shutters for ten windows on the building.  Each of the louvers was made by hand.
I don't have many commercial clients, and really enjoy working for a company that appreciates fine work and is willing to make the investment in something that is exceptional in both aesthetic and quality.  To see the copper awning I custom-made for this great building, go to
http://www.misitadesigns.com/awnings/
.