Writing a blog entry usually starts with telling a story of some sort or another.  This time, though, the work will speak for itself.  Custom copper vent hoods are phenomenal conversation pieces, and seem to satisfy my clients like nothing else does.  People who commission me to create custom vent hoods, or range hoods as they're also called, love their homes, live in their kitchens, and sometimes even like to cook.  Here's a collection of some that I've done.  If they inspire you, I'd love to create one for you.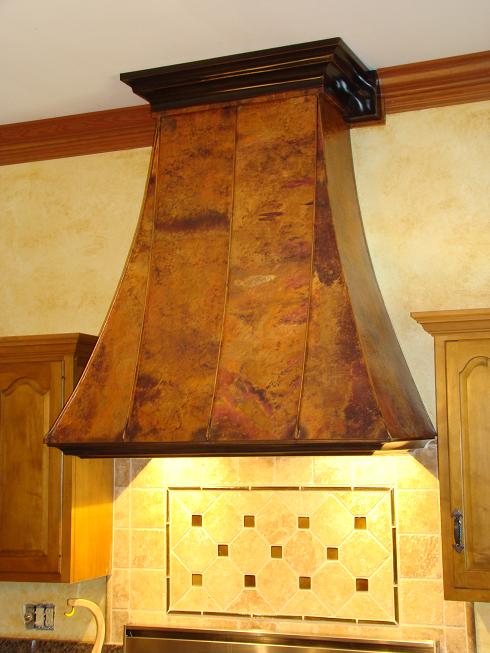 This first vent hood is one of my favorites. The homeowner gave me permission to leave the copper natural and unfinished. I love the result…the organic beauty of the raw metal is so striking. The lower photo shows the underside, with a custom made liner and incorporated lighting. We were able to design this whole piece to fit the kitchen's needs and the clients' desires completely.
This next custom range hood is my wife's favorite. I fashioned it from 32-ounce copper and used brass for the trim, both straps and rivets. The style works well with a French country feel, on any more European decor.  The second image is the underside of the vent hood, showing the custom stainless steel liner and custom lighting.
This copper vent hood is hand-hammered and has a natural patina and decorative ribbing. I had to work with the existing structure to install it, of course. I centered it on the beam and brought the molding beneath it.
All my vent hoods can use custom liners, or I can work with a factory made one. I work with contractors on the duct work, and like to install my vent hoods myself if possible. This isn't always possible if I have to ship rather than deliver, but my family and I are always up for a road trip…